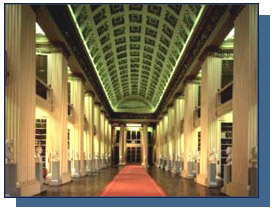 The Gallery of Benefactors commemorates and celebrates donations, bequests and other benefactions to Edinburgh University Library, since its founding in 1580 by Clement Litill's bequest.
Those displayed have been carefully selected. The Library is always ready to consider adding others, retrospectively as well as prospectively.
Each Gallery contains information about the benefactors and benefactions, including illustrations and links to further information where possible.
---
Friends of EUL | Recent Donations | Islamic & Middle Eastern
1500-1699 | 1700-1799 | 1800-1899 | 1900-1949 | 1950-1999 | 2000-

---
We hope you enjoy exploring the Benefactors' Gallery.
Please contact us ( is-crc@ed.ac.uk )
if you have any comments or suggestions.

Special Collections
Edinburgh University Library
Main Library,
George Square,
Edinburgh EH8 9LJ
Originally published by Peter Freshwater
Last modified: 18-July-2011
Web site designed by Amandine Croison
Unless explicitly stated otherwise, all material © The University of Edinburgh